Riots erupt in Delhi over India's citizenship law
Media playback is unsupported on your device Media caption'We have no issues with the students'Police have clashed with demonstrators in parts of the Indian capital, Delhi, during protests over a controversial new law on migrants.The new law entitles non-Muslim migrants from three Muslim-majority countries to citizenship if they are facing religious persecution.Police used tear gas…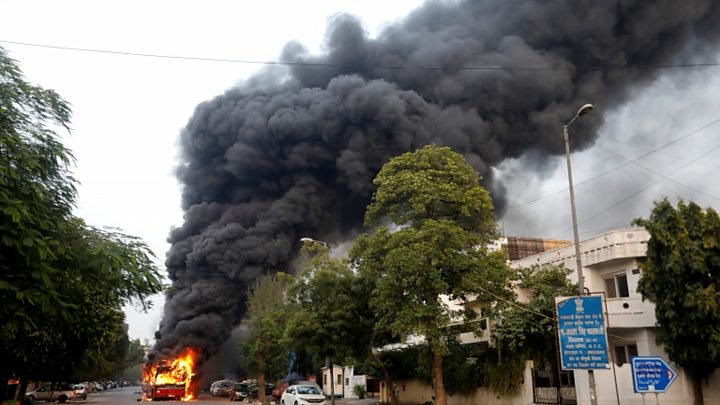 Authorities have encountered demonstrators in parts of the Indian capital, Delhi, throughout demonstrations over a questionable new law on migrants.
The new law entitles non-Muslim migrants from three Muslim-majority nations to citizenship if they are dealing with spiritual persecution.
Authorities used tear gas and truncheons versus protesters as buses were torched and roads were obstructed.
Protests have raged throughout north and east India since the law was passed.
6 people have been killed in the 5 days of discontent.
This weekend, demonstrators in West Bengal obstructed key nationwide highways while in Assam, the state government briefly lifted a curfew to enable individuals to buy vital items.
The UK, United States and Canada have released travel cautions for people visiting India's north-east, informing their residents to "exercise caution" if travelling to the area.
What happened in Delhi?
Trainees of the distinguished Jamia Millia Islamia university held a demonstration march which ended in clashes with the cops.
It is still uncertain who started the violence however stones were thrown at the police who retaliated with tear gas.
A minimum of 3 buses and a number of bikes were set on fire.
University students distanced themselves from the violence and some policemans privately confessed that local troublemakers were behind the difficulty, the BBC's Kinjal Pandya reports.
The university said police later on got in the campus without authorization and assaulted personnel and trainees.
Cops stated they did what was necessary to stop the protests.
Schools near the university in southern Delhi have been asked to remain closed on Monday.
Why is the law so dissentious?
The law allows non-Muslims from Bangladesh, Pakistan and Afghanistan, who went into India illegally, to end up being residents.
The Hindu-nationalist BJP federal government argues that the law aims to accommodate those who have actually run away spiritual persecution, the BBC's Anbarasan Ethirajan reports from Delhi.
Critics state the law belongs to the government's agenda to marginalise Muslims, which it violates nonreligious concepts enshrined in the constitution.
Previously this week the United Nations Person Rights workplace voiced issue that the new law was fundamentally discriminatory in nature.
Meanwhile, many Assamese argue that outsiders will take control of their land and jobs – ultimately controling their culture and identity.
The government denies any religious predisposition and states Muslims are not covered by the new law due to the fact that they are not spiritual minorities, and for that reason do not require India's defense.